Dominica Company Formations strives to provide location-independent entrepreneurs and business professionals with the most up-to-date and unique information on setting up a business in Dominica. Our expertise is tailored to those seeking an internationally accepted, sound, and efficient legal structure for their ventures. Whether you're looking to establish an international business, engage in global trade, protect your assets, or manage your wealth, our comprehensive resources and guidance are designed to help you navigate the intricacies of the Dominican jurisdiction with ease.
Our diverse audience includes digital nomads, international investors, traders, and business owners who value a secure and favorable environment for conducting their operations. With a focus on the Dominican jurisdiction, we offer in-depth knowledge on topics such as taxation, corporate law, residency, and banking. Our commitment to providing unique and high-quality information ensures that you can make well-informed decisions that align with your specific objectives.
---
Project Information:
Domain Name: www.dominica-companyformations.com
Status: ClientTransferProhibited
Registration Date: 19 August 2020
Registrar: CloudFlare, Inc.
Registrant: Legal Floris LLC
Nameserver 1: kiki.ns.cloudflare.com
Nameserver 2: coby.ns.cloudflare.com
---
Assignment:
Dimples and Co Ltd was hired to work out and implement a marketing plan to inform foreign business people, consultants, digital nomads and other location independent professionals to set up a company in Dominica. The plan should include a brand and website. The website should inform and convert. Therefore, the online ecosystem must be optimized for search engines, use appropriate keywords to attract the right visitors and provide them with correct and to-the-point information on the subject. The ultimate and overall objective  is to qualify prospects and upgrade them to customers.
---
Images: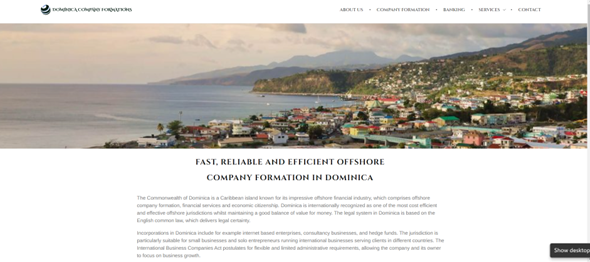 ---
End Result: 
This website is about setting up a company in Dominica, which is a Caribbean island known for its offshore financial industry. The website explains that incorporating a company in Dominica is a straightforward process and is suitable for small businesses and solo entrepreneurs running international businesses. The website offers services such as asset recovery, bank account opening, corporate tax residency, holding company incorporation, and nominee services. The website is created by Equation CS in collaboration with Legal Floris LLC. The website provides extensive information for interested parties and urges international businesspeople to reach out to discuss their needs.