International businesspeople seek to incorporate in more efficient jurisdictions for several reasons. Firstly, such jurisdictions often have lower tax rates or tax incentives, which can significantly reduce the overall tax burden. Secondly, efficient jurisdictions often have streamlined incorporation processes, meaning that the time and cost of setting up a business can be significantly reduced. Thirdly, these jurisdictions may offer greater flexibility in terms of corporate governance, allowing businesses to operate more freely.
Anguilla is a British Overseas Territory located in the Caribbean. It is known for its pro-business environment, with low taxes, no capital gains tax, and no personal income tax. Additionally, Anguilla has a streamlined incorporation process, allowing businesses to be registered in as little as 24 hours. The jurisdiction is also highly flexible in terms of corporate governance, with no residency requirements for directors or shareholders. As a result, Anguilla has become a popular destination for international businesses seeking to incorporate in an efficient and cost-effective jurisdiction.
---
Project Information:
Domain Name: www.anguilla-companyformations.com
Status: ClientTransferProhibited
Registration Date: 19 August 2020
Registrar: CloudFlare, Inc.
Registrant: Legal Floris LLC
Nameserver 1: kiki.ns.cloudflare.com
Nameserver 2: coby.ns.cloudflare.com
---
Assignment:
Dimples and Co Ltd was asked to focus on building a user-friendly platform that engages visitors and encourages them to take action. The website should showcase the company's products or services in an appealing and informative way, and the design should be aesthetically pleasing and consistent with the brand's identity. Additionally, the website should be optimized for search engines, with appropriate keywords and metadata to increase visibility and drive traffic. Overall, the goal of the website should be to increase brand awareness, promote the company's offerings, and ultimately drive conversions.
---
Images: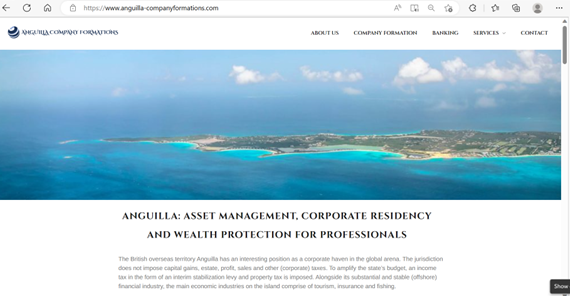 ---
End result: 
The website is about offering services for incorporating businesses in Anguilla, a British overseas territory that offers tax benefits and a stable financial industry. The website provides information about the advantages of incorporating in Anguilla and offers services such as asset recovery, bank account opening, corporate tax residency, holding company formation, incorporation, and nominee services. The website is managed by Legal Floris LLC and Equation CS, who are experienced in the offshore financial industry. The website targets international businesses and entrepreneurs who want to register and incorporate in Anguilla.