Cyprus Company Formations is a collaborative platform created by Legal Floris LLC and Equation Corporate Services to cater to international business professionals and location-independent entrepreneurs seeking to establish and grow their private limited liability companies in Cyprus. Our services are tailored to meet the unique needs of ambitious, innovative, and forward-thinking individuals who aim to launch and scale their ventures in a dynamic business environment. By leveraging the strategic advantages of Cyprus, we provide our clients with an unparalleled foundation for success in the global marketplace.
Our platform offers a comprehensive suite of services designed to streamline the process of setting up and managing a company in Cyprus. From company registration and legal compliance to accounting, tax planning, and administrative support, our team of experienced professionals ensures that our clients receive the guidance and resources they need to thrive in their chosen industries. Furthermore, we prioritize collaboration, efficiency, and cost-effective solutions to address the challenges faced by modern entrepreneurs.
The clients we serve are diverse, ranging from seasoned international business professionals to emerging location-independent entrepreneurs. Our clientele comprises individuals who are driven by determination and a desire to excel in their ventures, breaking through barriers and redefining global commerce. We cater to those who believe in the power of collaboration and the potential of a vibrant community to drive innovation, sustainability, and long-term success.
---
Project Information:
Domain Name: www.cyprus-companyformations.com
Status: ClientTransferProhibited
Registration Date: 30 June 2015
Registrar: CloudFlare, Inc.
Registrant: Legal Floris LLC
Nameserver 1: kiki.ns.cloudflare.com
Nameserver 2: coby.ns.cloudflare.com
---
Assignment:
We were asked to formulate a detailed plan to build online presence for a company helping ambitious business people to incorporate their business in Cyprus. The stages of our work included discovery and research; website strategy and planning; website design; content development; technical implementation; and search engine optimization. The result is visible below.
---
Images: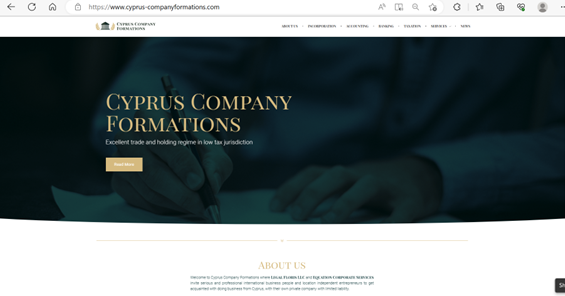 ---
End result: 
The website is about setting up a company in Cyprus for international business people and entrepreneurs. The website provides services such as company formation, accounting, banking, taxation, liquidation, reactivation, tax residency, and VAT administration. The website promotes the low tax jurisdiction and favorable tax climate of Cyprus. The website also provides news about tax treaties and changes in tax treatment. The website aims to serve ambitious and innovative business people and help them find affordable solutions to corporate challenges in a global world.