Belize, a small English-speaking country in Central America, has become an attractive destination for entrepreneurs and investors seeking to establish offshore companies. Belize company formations offer numerous administrative and economic advantages that appeal to location-independent business people. One of the primary benefits of incorporating a company in Belize is its favorable tax regime. Belize boasts a zero-tax policy on income generated outside its borders, making it an ideal jurisdiction for businesses with international operations. This tax-friendly environment allows businesses to optimize their financial performance and maximize profits.
Another advantage is the ease and efficiency of the incorporation process. Belize has a streamlined and straightforward registration system, enabling business owners to set up their offshore companies quickly and with minimal bureaucracy. The country also offers flexible corporate structures, including International Business Companies (IBCs), which are specifically designed for non-residents to conduct global business. Privacy is another key aspect that attracts businesses to Belize. The country has strong confidentiality laws, ensuring that company ownership information remains private and protected. This level of discretion is highly sought-after by entrepreneurs who value their privacy and security. Belize also has a stable political environment and a pro-business government, which contribute to its appeal as an offshore business destination. The government actively supports foreign investment and has implemented policies that foster economic growth.
---
Project Information:
Domain Name: www.belize-companyformations.com
Status: ClientTransferProhibited
Registration Date: 30 June 2015
Registrar: CloudFlare, Inc.
Registrant: Legal Floris LLC
Nameserver 1: kiki.ns.cloudflare.com
Nameserver 2: coby.ns.cloudflare.com
---
Assignment:
As the digital economy continues to grow, more and more professionals are choosing to work remotely, untethered from traditional office spaces. This flexibility has driven an increasing number of location-independent entrepreneurs to explore Belize as a base for their businesses. The Belizean jurisdiction offers several key advantages that appeal to these professionals. Dimples and Co. was asked by Legal Floris LLC to build a logo and website to inform its audience on Belize, its economy and the advantages of incorporation in the jurisdiction.
---
Images: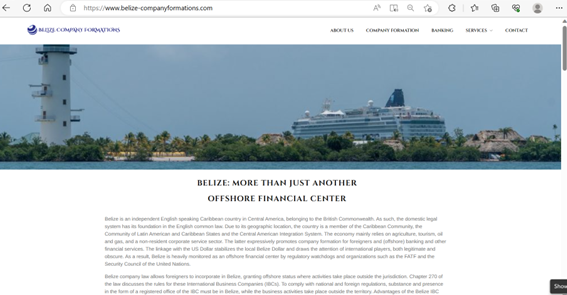 ---
End result: 
The website is about helping people incorporate their businesses in Belize, which is a country in Central America. Belize is known for allowing foreigners to incorporate businesses there, and the website has information about the advantages of doing so, such as privacy protection and asset protection. The website also offers additional services like asset recovery, bank account opening, and corporate tax residency. The website is run by Equation CS and Legal Floris LLC, and they invite professionals and entrepreneurs to contact them for more information.